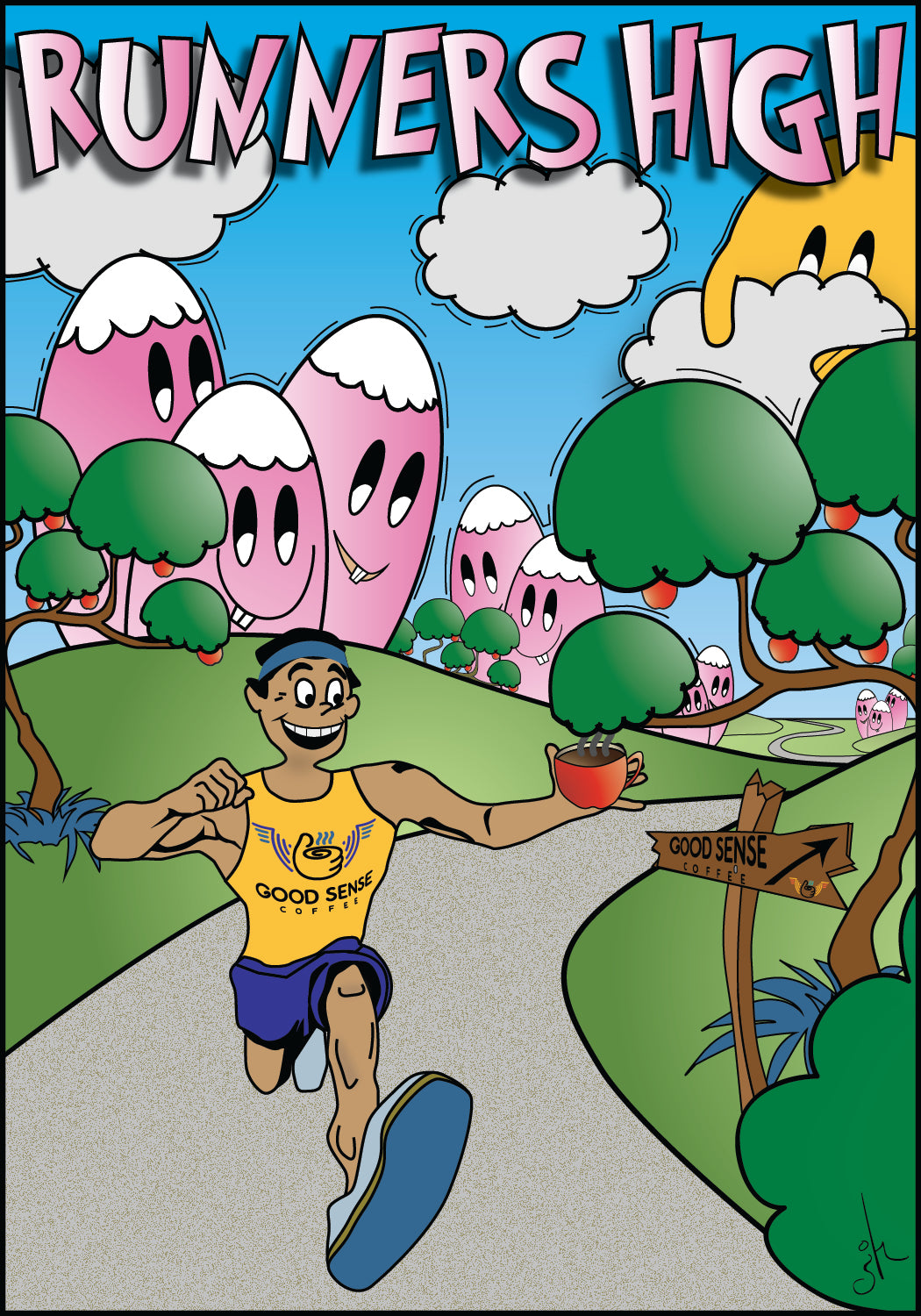 Runners High Blend!
Regular price $17.25 Sale
Runners High is a dream blend that was several years in the making. I started Good Sense Coffee in 2013 it was 1 year after a disappointing failed attempt at qualifying for the 2012 olympic trials and 3 years before what I thought was going to be my next attempt at the Olympics in 2016. During that "down year" after the 2012 Track season I started Good Sense Coffee. I wanted a company that roasted exceptional speciality coffee while giving our profits back to those in need in our local community and around the world.
I have always wanted to create a line of blends that were themed after running, but did not want to sacrifice quality as I had seen so many roasters do with their blends. Often times blending allows the roaster to use cheaper lower quality beans to achieve higher margins. This concept went against our mission of providing exceptional coffee. So for several years I did not pursue the idea. 
In the beginning of 2017, after a thrilling track season watching my wife qualify and compete in the 2016 Olympic trials. I set out to start the running themed blends. I knew I had to come up with a coffee that was good enough to exceed my own high standards.
Along the way I had the help of several other runners to create the Runners High blend. My friend and fellow runner Toni Reese helped motivate me to begin the project and also helped inspire the name of this first blend. The label was designed by former Michigan State University track hurdler Jake Hamilton. And my Olympic Trials qualifying wife Sarah was along every step of the way to inspire and support the project. After several months of trial and error we had in our mugs the blend you are reading about now.
To meet my quality expectations I use 3 high end single origin coffees that are good enough to be brewed solo. We roast each of them separately in order to maximize the strengths of each individual coffee and to stretch the flavor profile and complexity of the final product. This is an outstandingly smooth and complex blend that will keep you guessing; "Umm was that lemon? blueberry? almond? dark chocolate? or all four?" 
This Blend would be considered a Medium roast and is designed to appeal to anyone who wants to experience a Runners High with or without the actual run. So, whether you are heading out for your next outdoor adventure, just getting home from it or simply looking for an outstanding coffee to kick start the day, this coffee was created for you. 
We hope you enjoy!