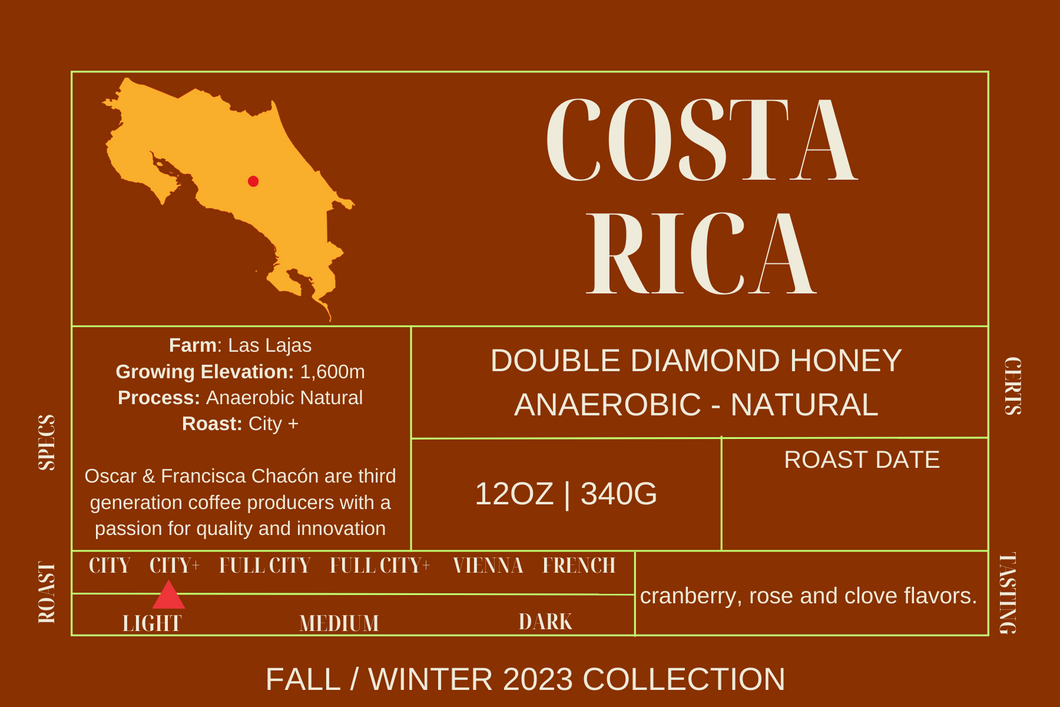 Costa Rica - Las Lajas - Double Diamond Process
Regular price $17.00 Sale
Excitement level is Through the roof for this coffee. This coffee comes to us from Las Lajas, a multi-generation family-owned an operated farm in Sabanilla de Alajuela Costa Rica. 
The "Double Diamond" process was developed by Las Lajas over the course of four years. It is one of the most intentional and complex processes we have yet to come across. This process starts at the farm, selecting cherries from the healthiest coffee plants and delivering them soon after to the mill. Here the cherries are meticulously sorted and after selecting the most uniform and ripest ones, these cherries are placed in sealed tanks for an average period of 72 hours to undergo an anaerobic fermentation process. This process is deemed "complete" once the Brix and pH levels measure to desire. After this, the cherries are moved to raised beds inside a covered drying space. The entire goal with this curing process is to extend this process for as long as possible, without "stalling" the gradual drying of these cherries.  This is truly a passive "curing" process that results in a sweeter, clean and bright cup. 
| | |
| --- | --- |
| Origin | Costa Rica |
| Region | Sabanilla de Alajuela |
| Farm | Las Lajas |
| Variety | |
| Altitude | 1,400 - 1,600 masl |
| Proc. Method | Double Diamond  |
Notes: Strong cooked cranberry and savory with potpourri-like rose and clove flavors. Boozy acidity and syrupy sweetness.